Staffworks Fund Awards Challenge Grant to Susquehanna SPCA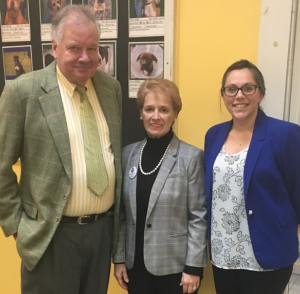 The Susquehanna Society for the Prevention of Cruelty to Animals (SQSPCA) has announced a new $250,000.00 challenge grant from the Staffworks Fund.
Made in support of the SQSPCA's $2,000,000.00 SHELTER US capital campaign, the challenge – once met – will generate $500,000.00 toward the construction of a campus that will house a new, state-of-the-art animal shelter and thrift store.
SQSPCA Board President H. Gaylord Dillingham welcomed assembled representatives of the local press and SQSPCA Board and Capital Campaign Committee members on Tuesday, April 30 at a special media event to officially kick off the challenge. Executive Director Stacie Haynes provided a brief campaign update before introducing Anita A. Vitullo, Staffworks founder and president.
"I am thrilled to report that the Staffworks Fund of The Community Foundation of Herkimer & Oneida Counties has generously pledged $250,000.00 to our SHELTER US Campaign," Haynes said. "But there is a catch."
"This gift is a challenge grant," she continued. "That means every new cash gift or multi-year pledge we generate – starting today through October 1 – will be matched by the Staffworks Fund, up to a total of $250,000.00."
"If you donate $5.00, the Staffworks Fund will donate $5.00, and the shelter gets a total of $10.00. If you donate $50,000.00, the Staffworks Fund will donate $50,000.00, and the shelter will get $100,000.00," Haynes explained. "And so on, until we reach $250,000.00."
The project – buoyed by a $500,000.00 New York State Companion Animal Capital Fund Grant through the Department of Agriculture and Markets – will move the shelter and thrift store facilities 1.2 miles north of the current location on State Route 28 between Cooperstown and Oneonta. Total project cost is anticipated to be around $2 million. Current SHELTER US donations are just over $1.2 million, not including the Staffworks Fund challenge grant.
Among the factors which ultimately compelled Vitullo to make her generous $250,000.00 pledge to the SQSPCA were the energy and tenacity of Haynes and the organization's supportive, working board. Vitullo also applauded the shelter's no-kill policy, aggressive spay/neuter program, active community outreach and volunteer initiatives, and spirit of collaboration.
Vitullo also praised Haynes for her recent work in spearheading the Otsego County Animal Cruelty Task Force, which she described as instrumental in the shape of this community in the future of the care of animals.
"I applaud your vision," Vitullo said.
The new facilities will improve the daily lives of sheltered dogs and cats by better conforming to guidelines established by the Association of Shelter Veterinarians. Upgraded features will include two entrances separating incoming animals from visitors and animals leaving for their new homes, a sterile surgery suite with safe recovery area, a fresh air ventilation system to benefit visitors as well as animals under shelter care, and more convenient parking.
"A gift of this magnitude from a respected philanthropic leader in animal advocacy is further validation that the Susquehanna SPCA is a good investment for folks who believe in helping animals in need," Haynes said.
"Multi-year pledges over the five-year span of the campaign are especially important in achieving our funding goals," Haynes emphasized.
Naming opportunities are available for gifts at levels from $5,000 to $1,000,000, including dog runs, catios, dog walking trails, surgical suite with recovery room and the campus itself.
Haynes lauded Vitullo as both a supporter of the SQSPCA and a personal mentor.
"This is a woman who truly cares," Haynes said of Vitullo. "Anita has already made a tremendous positive impact on animal welfare across our region. Through this investment, she will continue to build upon a truly powerful legacy."
In operation since 1917, the Susquehanna SPCA is a 501c3 nonprofit organization committed to caring for homeless, surrendered, and seized companion animals and finding them loving, forever homes. The SQSPCA is a privately funded, state inspected animal shelter practicing "no-kill" philosophies. Private donations, grants, fundraising and the New Leash on Life Thrift Shop are the shelter's only source of income. For more information or to donate, visit www.sqspca.org
In 2005, Anita A. Vitullo established The Staffworks Fund at the Community Foundation of Herkimer & Oneida Counties. The sole mission of the Staffworks Fund is supporting nonprofit organizations that care for at-risk animals. Today, Staffworks has assets of over $13,000,000 at The Community Foundation. 100% of Staffworks Inc. profits provides financial support for the Staffworks Fund. Staffworks Inc. was founded by Vitullo in 1997 and has nine offices serving central New York State.