Staffworks Fund Presents SSHS Fur Ball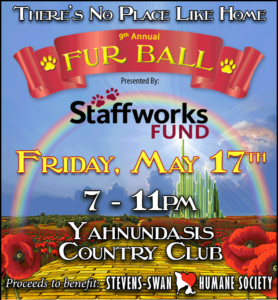 The 9th Annual FurBall presented by Staffworks will be held on Friday, May 17 from 7 p.m. to 11 p.m. at the Yahnundasis Country Club.
JOIN US for a pawfect evening of delicious food, desserts, live music by Stage Road, and more!
To purchase tickets, visit https://stevens-swan.org/upcoming-events/2019-furball/…
All proceeds benefit the thousands of homeless, neglected, and abused companion animals that the Stevens Swan Humane Society cares for every year.